Queen of Festivals - Lleyten Rein
Lleyten Rein is the 20 year old daughter of Chandie and James Kraus along with Josh and Rachael Rein. She was crowned the 2023 Willmar Fests Queen of Festivals last June. Lleyten currently attends Ridgewater College in Willmar where she is finishing her AS degree in Law Enforcement. This summer she will be attending Alexandria Technical and Community College for their law enforcement skills program. Lleyten graduated from Willmar Senior High in the spring of 2021. Throughout her four years at WHS she was involved in soccer, hockey, track/field, and FFA. Lleyten has been involved with the Willmar Police Explorers program since 2019. Lleyten currently works as a Security Guard for Centracare in Willmar. In her spare time Lleyten enjoys going fishing, spending time outdoors, and hanging out with friends and family.
Aqua Princess - Leah Smith
Leah Smith is the 20-year-old daughter of Dean Smith and Jessi Rauenhorst (deceased). She graduated in the spring of 2021 at Willmar Senior High School. Throughout her 4 years at WHS she was active on the Willmar Cardettes dance team and danced for 2 1/2 years, unfortunately due to covid she did not dance her senior year. She has volunteered her free time in the summer to work at the Willmar Stingers for the past 7 years and will return for her 8th year this summer! Leah is currently furthering her education at Ridgewater College in Willmar. She will graduate from Ridgewater in the Spring of 2023, with a degree in Liberal Arts & Sciences and a degree in Communications Studies with a certificate. In the Spring of 2024 she will be transferring to a University (undecided) to pursuit her education in Journalism and double majoring in sports studies, in hopes to get a job in sports media. Leah is currently employed at Cardinal Place for the Willmar Public School District and loves spending her time with the kids there. In her free time, she loves to go camping and ATV riding, attend baseball games, workout, spend time with family and friends, and be outdoors.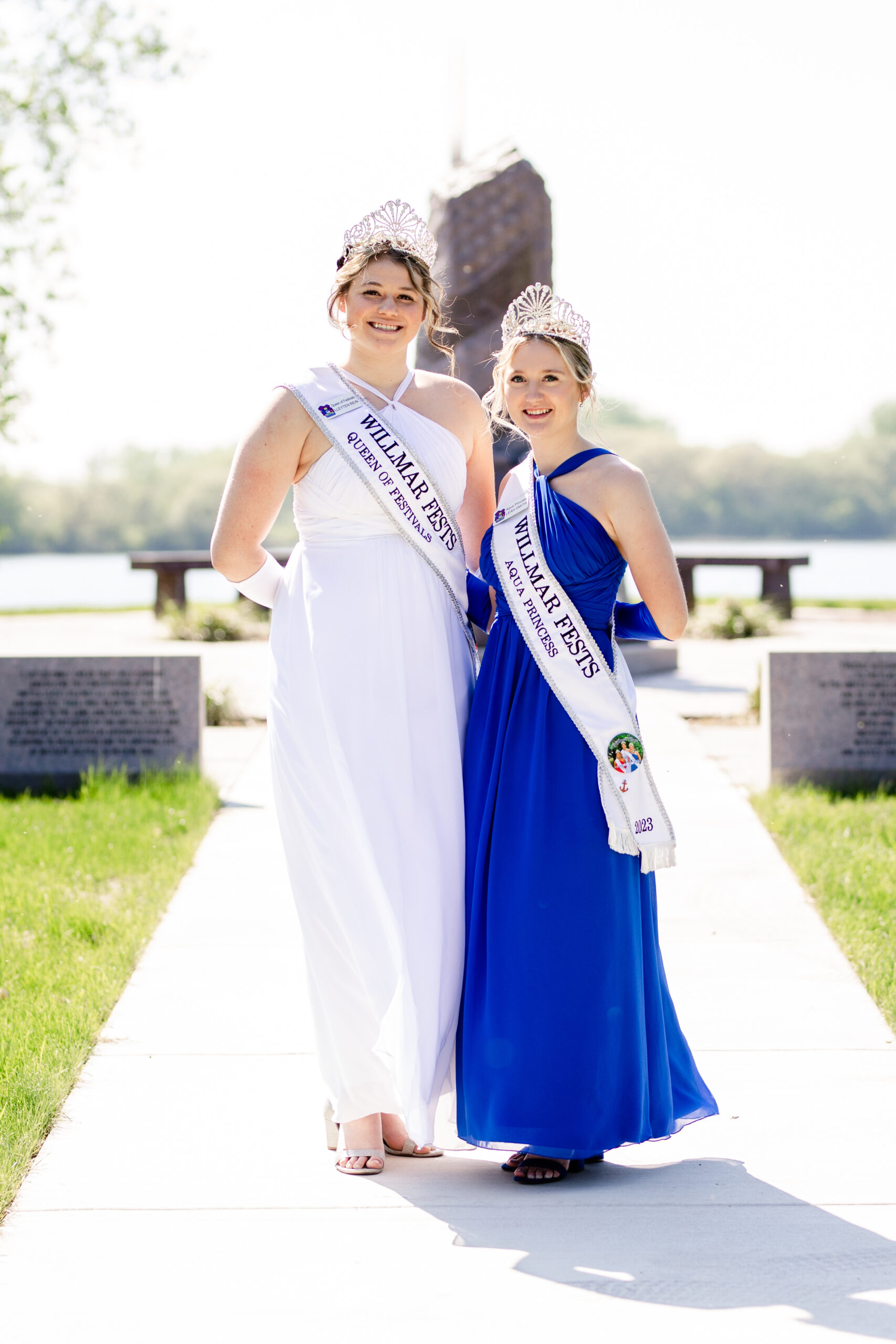 Willmar Fests Past Royalty

Kaffe Fest Queens
1945-1946
Queen
Phyllis
Lundquist
1946-1947
Queen
Beatrice
Swenson
Mattson
1947-1948
Queen
Shirley
Nelson
Hutton
1948-1949
Queen
Joan
Hathaway
Danberry
1949-1950
Queen
Carol
Berg
Syverson
1950-1951
Queen
Jean
Benson
Erickson
1951-1952
Queen
Yvonne
Erickson
Anderson
1952-1953
Queen
Betty Ann
Voss
Hemstad
1953-1954
Queen
Betty Ann
Finnegan
1954-1955
Queen
Jackie
Enger
1955-1956
Queen
Nancy
Oman
1956-1957
Queen
Marilyn
Dawson
Altany
1957-1958
Queen
Mary
Olson
Andrews
1958-1959
Queen
Gail
Nygaard
Anderson
1959-1960
Queen
Carmen
Gilman
Borstad
1960-1961
Queen
Judy
Halvorson
Dahlseid
1961-1962
Queen
Pat
Burke
Heimdahl
1962-1963
Queen
Janet
Iverson
Sanderson
1963-1964
Queen
Mary Sue
Anderson
Finney
1964-1965
Queen
Nancy
Blomquist
Johnson
1965-1966
Queen
Kathy
Bredeson
1966-1967
Queen
Shannon
Paffrath
Carbone
1967-1968
Queen
Pat
Fladeboe
Hamann
1968-1969
Queen
Cheryl
Smith
Halleron
1969-1970
Queen
Jarolyn
Worner
Watkins
1970-1971
Queen
Jackie
Hauan
Shook
1971-1972
Queen
Debbie
Hanson
McMurray
1972-1973
Queen
Cindy
Klaassen
Ohl
1973-1974
Queen
Debbie
Nelson
Sheehan
1974-1975
Queen
Roxanne
Wensman
Van Hauen
1975-1976
Queen
Mary Beth
Schwegman
Arnold
1976-1977
Queen
Beth
McClain
Thein
1977-1978
Queen
Jodi
Molnau
1978-1979
Queen
Mary Jo
Dillenburg
1979-1980
Queen
Renae
Schmidt
Aspenwall
1980-1981
Queen
Robyn
Gilbertson
Lyon
1981-1982
Queen
Cathy
Schueller
Horning
1982-1983
Queen
Michelle
Vossen
Martin
1983-1984
Queen
Julie
Peterson
Christiansen
1984-1985
Queen
Ann
Rime
1985-1986
Queen
Amy
Peterson
Princess
Amy
Flick
1986-1987
Queen
Kim
Fladeboe
Anderson
Princess
Elizabeth
Berg
Leer
Princess
Janelle
Clark
1987-1988
Queen
Lori
Pirrotta
Waltz

Willmar Fests Royalty

As you can see, Lori Pirotta was our last Kaffe Fests Queen, and also our first Willmar Fests Queen. We transitioned from Kaffe Fest to Willmar Fests in the middle of this year.

Maiden Last Name
Current Last Name
1988
Queen
Lori
Pirotta
Waltz
Princess
Chris
Meyers
Newcomer
Princess
Sarah
Kodet
Dalluge
1989
Queen of Festivals
Amy
Lapatka
Dornbach
Aqua Princess
Jennifer
Klinghagen
Frameries Princess
Becky
Spartz
International Princess
1990
Queen of Festivals
Sara
Birkland
Elliot
Aqua Princess
Kristin
Sommers
Frameries Princess
Krista
Welch
Ahlman
International Princess
Kathy
Kimmel
1991
Queen of Festivals
Sheila
Berg
Aqua Princess
Dawn
Kimmel
Frameries Princess
Sarah
Reese
International Princess
Jill
Saulsbury
1992
Queen of Festivals
Carrie
Johnson
Ogdahl
Aqua Princess
Candace
Powers
Frameries Princess
Dawn
Bauer
International Princess
Heather
Hannig
1993
Queen of Festivals
Andrea
Bolland
Bach
Aqua Princess
Annie
Wilde
Frameries Princess
Trena
Holmgren
Eller
International Princess
Jodi
Norberg
1994
Queen of Festivals
Joy
McDonnell
Elskamp
Aqua Princess
Amy
Swanson
Frameries Princess
Kristine
Fladeboe
Duininck
International Princess
Emily
Rhody
Javens
1995
Queen of Festivals
Sarah
Nelson
Aqua Princess
Sarah
Quam
Renneke
Frameries Princess
Amy
Backes
Berskow
International Princess
Melissa
Johnson
Hansen
1996
Queen of Festivals
Jessica
Hanson
Wood
Aqua Princess
Angela
Nettland
Nelson
Frameries Princess
Mackenzie
Erickson
Bjorklund
International Princess
Jessica
Falk
1997
Queen of Festivals
Shawn
Haglund
Moudry
Aqua Princess
Jessica
Mootz
Freking
Frameries Princess
Kristen
Wagner
International Princess
Hayley
Horning
Shibley
1998
Queen of Festivals
Kelly
Gahlon
Buboltz
Aqua Princess
Heather
Miller
Spaulding
Frameries Princess
Addi
Larson
International Princess
Kelly
Wickstrom
1999
Queen of Festivals
Beth
Ingebretson
Aqua Princess
Courtney
Kurtzbein
Piekarski
Frameries Princess
Sara
Myhre
Stadther
International Princess
Jennifer
Mootz
2000
Queen of Festivals
Lisa
Carlson
Tomassen
Aqua Princess
Selena
Erickson
Klein
Frameries Princess
Janet
Pederson
Scott
International Princess
Nicole
Gilbertson
2001
Queen of Festivals
Heather
Rahn
Westby
Aqua Princess
Mary Kay
Hanson
Frameries Princess
Kelsey
Myhre
International Princess
Christina
Holm
Sandok
2002
Queen of Festivals
Kaila
Mikes
Aqua Princess
Becky
Carlson
Frameries Princess
Jenny
Quick Strangis
International Princess
Rachel
Albrecht
Loney
2003
Queen of Festivals
Laura
Damhof
Mueller
Aqua Princess
Sarah
Madison
Frameries Princess
Hailey
Gahlon
International Princess
Nichols
2004
Queen of Festivals
Kelleigh
Tegels Nelson
Aqua Princess
Kari
Hawes
Spieker
International Princess
Chelsea
Conway
2005
Queen of Festivals
Kalie
Larson
Cole
Aqua Princess
Cindy
Dokkebakken
Haim
International Princess
Kari
Michaelis
Freeman
2006
Queen of Festivals
Lindsey
Saunders
Meyer
Aqua Princess
Jackie
Mootz
Parks
International Princess
Samantha
Sobiek
Heitke
2007
Queen of Festivals
Kaley
Hanson
Krause
Aqua Princess
Katie
Simenson
Cunningham
International Princess
Ashleigh
Leitch
2008
Queen of Festivals
Shelby
Warner
Matsko
Aqua Princess
Brittany
Holtberg
International Princess
Sara
Oestreich
2009
Queen of Festivals
Jenna
Rooda
Savoie
Aqua Princess
Kelsey
Swanson
Damhof
International Princess
Laura
Virgen
2010
Queen of Festivals
Kaitlin
Schlegel
Budish
Aqua Princess
Sara
Frank
Frode
International Princess
Lisa
Hedlof
2011
Queen of Festivals
Megan
Michaelis
Christensen
Aqua Princess
Shelby
Morton
International Princess
Ashley
Bach
Smith
2012
Queen of Festivals
Shelly
Sommers
Aqua Princess
Alexandra
Wodash
International Princess
Tiffany
Sieu
2013
Queen of Festivals
Marie
Niles-Melchert
Aqua Princess
Sarah
Rodelius
International Princess
Kaitlan
Bloomquist
2014
Queen of Festivals
Laura
Swartz
Aqua Princess
Tori
Hagen
International Princess
Danica
Seifert
2015
Queen of Festivals
Janessa
Palmer
Aqua Princess
Alizabeth
Haug
Cordes
International Princess
Raquel
Aguilar
2016
Queen of Festivals
Miranda
Roelofs
Aqua Princess
Morgan
Stoeberl
Broberg
International Princess
Kadijah
Farhat
2017
Queen of Festivals
Carly
Derouin
Aqua Princess
Alicia
Holwerda
International Princess
Hannah
Erickson
Blanchette
2018
Queen of Festivals
Leslie
Alvarez
Aqua Princess
Carly
Hulstein
International Princess
Staci
Banks
2019
Queen of Festivals
Abby
Valladarez
Aqua Princess
Brielle
Thorpe
International Princess
Maddie
Stoeberl
2020
Queen of Festivals
Abby
Valladarez
Aqua Princess
Brielle
Thorpe
International Princess
Maddie
Stoeberl
2021
Queen of Festivals
Sarah
Carlson
Aqua Princess
Kacy
Knofczynski
International Princess
Jacky
Diaz
Aquatennial Ambassador Queen of the Lakes and Princess Ambassadors Every year the Queen of Festivals has the opportunity to go on and try to become an Ambassador for the Aquatennial Ambassador organization. Below is a listing of the past Queens that have recieved a title with this organization.
| | | | | |
| --- | --- | --- | --- | --- |
| 1959 | Princess | Mary | Olson | Andrews |
| 1960 | Queen of the Lakes | Gail | Nygaard | Anderson |
| 1962 | Princess | Judy | Halvorson | Dahlseid |
| 1965 | Queen of the Lakes | Mary Sue | Anderson | Finney |
| 1971 | Princess | Jarolyn | Worner | Watkins |
| 1973 | Princess | Deborah | Hanson | McMurray |
| 1980 | Queen of the Lakes | Mary Jo | Dillenburg | Gorman |
| 1986 | Princess | Ann | Rime | Kluender |
| 1995 | Princess | Joy | McDonnell | Elskamp |
| 1999 | Queen of the Lakes | Kelly | Gahlon | Buboltz |
| 2001 | Queen of the Lakes | Lisa | Carlson | Tomassen |
| 2007 | Princess | Lindsey | Saunders | Meyer |
| 2015 | Queen of the Lakes | Laura | | Swartz |